Tammy Lane
Hotel
Tammy got into Discworld after a role-playing friend suggested that she might like the books and after reading Guards Guards, Tammy was hooked.
This will be Tammy's second year on the committee. At the last convention you may have noticed a small purple blur running around the hotel looking for some volunteers or busying away with things, (Yup that was her). This year Tammy thought that because she lives fairly close to the new venue that she would volunteer for the hotel role on the committee.
In her spare time Tammy is a member of the Riders Branch and Coleshill Branch of the Royal British Legion and is often seen out and about at carnivals and fates raising money and awareness for the charity.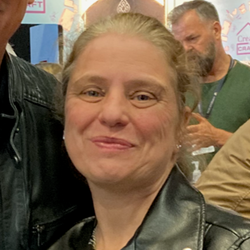 Back To Overview