Dave Marsh
Stage Manager
Dave 'The Stage' was first asked by Dr Hix to stage manage the Con back in 2010 and was immediately honoured with the moniker 'The Stage' by the infamous Mr Boggis.
Dave spends the majority of the con lurking (in a non-creepy way) either in the dark recesses of the Stage or the dark recesses of the bar.
Since the last and really most excellent convention, Dave has helped build a number of sets and played such characters as the Mad Hatter, Sir Galahad and Greebo (leather trousers and all), he has finished the first draft of his first novel and discovered a love of rope free climbing.
So please go and say 'Ello' and share a bevy and perhaps a ghost story .... he's the chap in black who according to the splendid (and obviously short sighted) Rob Wilkins looks a bit like David Bowie (from 1983)?!?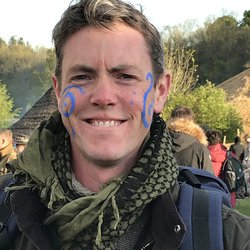 Back To Overview